Published by On the Baseline Tennis News on Jul 26, 2010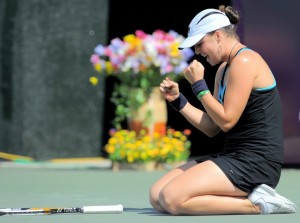 Alisa Kleybanova is one of the fastest rising Russian players on the Sony Ericsson WTA Tour. Chris Oddo sat down with the amiable tennis star on Sunday for a chat about the Olympics, her maiden WTA title, and the hard task of finding Russian food in America.
STANFORD, California—Tonight's heavily anticipated opening night at the Bank of the West Classic is enticing for many reasons. Ana Ivanovic has amassed a huge following over the last few years, and fans will no doubt arrive in droves to see if she can play herself into top form. But on the other side of the net, a less heralded but very dangerous competitor will be waiting.
Alisa Kleybanova is well within striking distance of her career high ranking of No 22, and she's feeling confident in her abilities, after securing her first WTA Tour title in Kuala Lumpur in February. She may not be precisely where she wants to be yet, but at twenty-one, the powerful Russian believes the rewards will come if the work gets done.
All of that gave her reason to smile as we had a nice chat in the players' lounge on Sunday afternoon.
Chris Oddo: Happy birthday [Alisa turned 21 on July 15th]. I heard you went and did some celebrating in Italy. How was that?
Alisa Kleybanova:Thank you. I practice in Italy sometimes, so I just happened to have a birthday there. It was one of the best birthday parties that I've ever had. It was really nice.
Chris Oddo: Did you have some of the chocolates from Perugia?
Alisa Kleybanova: Of course, during the birthday, we had everything.
Chris Oddo: Did you bring some with you?
Alisa Kleybanova: No, I didn't bring anything with me. They would melt, it's too hot. It's 45 degrees in Italy now. It was impossible to bring any chocolates here (laughing).
Chris Oddo: Are you happy to be in the States, and do you enjoy this American hard court swing?
Alisa Kleybanova: Well it's a bit difficult in the beginning because until now I was practicing on the clay courts. I didn't want to rush too much to go onto the hard courts because we have a really long season. Until next clay court season we have all the tournaments – outside, indoors, everything – on hard so I have enough time to get used to it.
But anyway, I like to play tournaments in the States; it's really nice. It's just a bit long series now with six tournaments. It's not easy.
Chris Oddo: It's tough on the body. Well, can you take a few off?
Alisa Kleybanova: Well, it's the third time that I'm doing it, so you know, past two times went pretty well – it all depends on the results, if you go forward to the end of the tournament or you lose first or second round. It depends on many, many things and you can adjust your schedule through all of this.
Chris Oddo: You have Ivanovic in the first round. Do you start to practice with her in mind or do you just worry about your own game?
Alisa Kleybanova: I don't worry about my opponent so much, but of course a little bit you have to adjust when you know who you have to play. But for me now I just want to enjoy and try to get used to the courts, because for the moment I am just trying to feel the surface. I am not worried too much about who I am going to play. It's my first tournament playing on a hard court and I just want to enjoy and see how it goes and not put any pressure on myself. For me, the most important thing is just to stay healthy and pick up my game step by step.
Chris Oddo:: I like your philosophy. It's a long term philosophy.
Alisa Kleybanova: Yes, well, this probably helps me. If you play every tournament like it's the last tournament in your life it's difficult to stay all year through and still enjoy.
Chris Oddo: Which was more exciting, winning the first pro tournament you entered when you were 14, or winning your maiden WTA title in Kuala Lumpur earlier this year?
Alisa Kleybanova: This last title in Kuala Lumpur. It was definitely not the easiest tournament that I played. I had many three set matches and the weather conditions were really tough, so I'm really happy that I was able to stay there until the end of week and especially to beat Elena [Dementieva] in the final because she's such a great player. For me it's a big achievement. This win in Kuala Lumpur really gave me some positive emotions. I'm not thinking about it anymore, because you have to keep going, but there is something deep in the heart that stays with me, because it's the first one.
Chris Oddo: If you win a Grand Slam you can think about that for a while.
Alisa Kleybanova: Yes, definitely (laughing). I think to start with Kuala Lumpur is not bad though.
Chris Oddo: You said you'd prefer an Olympic Medal over a Grand Slam. What are your reasons for that?
Alisa Kleybanova: I don't know, maybe it's because of my country. But for me to win the Olympic Games is something special. It's a sporting event for everybody in the world. If you say Olympic Games there isn't one person in the world that doesn't know it. The Olympic Games mean to me something completely different. Of course I would like to win a Grand Slam, but there is something apart, something emotional about it.
But with our country where we have so many good tennis players it is not even easy to get to play in the Games. So, first achievement would be to get on the Olympic team.
Chris Oddo: Well, you're a great doubles player, there might be room there.
Alisa Kleybanova: (laughing) Yes, mixed doubles, doubles. I would really prefer to play the singles.
Chris Oddo: There have been a lot of great Russian performances at the Olympic games – what is your favorite of them?
Alisa Kleybanova: One of my favorite figure skaters is Alexei Yagudin. I watched his videos and I watched the Olympic performance in Salt Lake. When I saw the emotion when he got the gold medal, it was completely, I mean I was close to crying. It's something that stays with you all your life.
Chris Oddo: It's emotional.
Alisa Kleybanova: For me it's really emotional. It's something that's completely special.
Chris Oddo: Speaking of emotions, did you cry when Francesca Schiavone won the French Open?
Alisa Kleybanova: I wasn't there and I didn't see, so it's different when you are getting text messages. I was really, really happy for her because the last couple of months we played doubles together, so I could see how she is working and how she is thinking and how bad she wants it. Before I always knew that she's a great player, but I never saw her so close, as my doubles partner and as a friend. To win a Grand Slam is really something that she deserved because she worked for it and I'm happy that she got that chance – and she used that chance, totally.
Chris Oddo: Does it give you a feeling that it can happen to you too?
Alisa Kleybanova: The only thing is that when you have your chance you have to take it.
Chris Oddo: In my neighborhood there is a Russian market and I never know what to order. Can you help me with that?
Alisa Kleybanova: Honestly, I like Russian food, but when I go abroad I never go to the Russian stores. In general it's tough to say. Always when I am home I know exactly the best shops, the best stores, the food which is very fresh, but when I see the Russian supermarkets in America or Australia it's a bit strange, because Russia is really far. Expecting that the things that they sell there and are very good quality, I would think about it.
California is a beautiful state and you really have a lot of possibilities to eat great meat and great vegetables because the climate here is so good that there are a lot of fresh things growing here, not like in Russia where it's six months in a year and nothing is growing really (laughing).
Chris Oddo: Thanks so much, I'll let you go because I'm sure you have lot of things to do.
Alisa Kleybanova: It was a pleasure.